Pro AV Catalog
Manufacturers
PRODUCT CATEGORIES
Matching Keywords
Model Numbers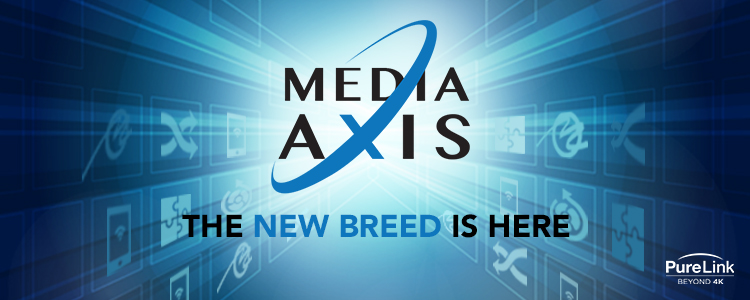 Introducing the Purebred 21st Century Matrix
Media Axis™
is the world's first large-scale matrix switching and extension system that supports UHD/4K60 4:4:4 via both Native and IP architectures. This transformative platform provides a truly adaptive solution offering dynamic, proprietary features and technologies including:
PureBred™ Design - a wholly transformative platform that distributes Ultra HD via native and IP architectures interchangeably
Motore™ 2.0 - 4K/60 4:4:4 media processing and auto-scaling with frame rate conversion at every output
Omni-Flex™ - a fully modular, adaptive, and scalable design that offers field upgradeable components including hot-swappable I/O cards, MCU, AirLift™ cooling units, and power supplies
AirLift™ - modular blade units each composed of eight fans providing lateral air flow for direct- cooling of matrix components
iAxis™ - detachable, front panel tablet control allowing mobile/ wireless command of Media Axis systems (optional)
Switch Now.
You must be logged in to add more than four items to your comparison list.
Register today!
With a free My-iQ account, you'll be able to keep track of the latest updates and event notifications from your favorite AV manufacturers, manage your own projects and discover new pro-AV products.
Thank you!
Someone will be in touch with you shortly.
Contact Avidex Industries, LLC
Avidex Industries, LLC
13555 Bel-Red Road
Suite 226
Bellevue, WA 98005
USA
(425)643-0330
www.avidex.com
Request more information from a dealer near you
Request more information from a dealer near you